Forbes lists Apple as the most valuable brand in 2018; Google is second and Amazon tops Coke
18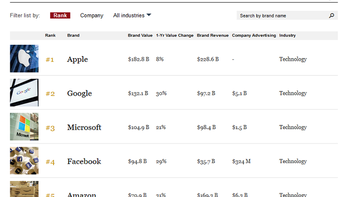 It probably wouldn't surprise you to learn that the top five most valuable brands this year, as computed by
Forbes
, are all tech giants. But the ever growing reach of technology can be seen in one interesting change in the list; Amazon passed ubiquitous soft-drink giant Coca-Cola to reach the top five this year. When you think about that for a moment, the implications are stunning. Coke was founded in 1892 and is available in over 200 companies. Amazon was founded in 1994 (in fact, July 5th will be its 24 birthday).
The list is based on the earnings over a three year period that Forbes attributed to a company's brand, based on the industry the company competes in. It then computes the firm's average Price-Earnings (PE) ratio for three years. The Price-Earnings ratio is arrived at by dividing a company's stock price into the earnings per share, and is a traditional valuation tool for fundamental analysts (and a quick and dirty way to see if a stock is over or under valued). Tech stocks typically sport a higher PE ratio, which might have resulted in the Beatle-esque monopolization of tech in the list. The PE ratio multiplied by the company's earnings attributed to its brand, results in the final figure that Forbes uses to rank the companies on the list.
Forbes' calculations put Apple on top with its brand worth $182.8 billion, up 8% from last year. Samsung sold more phones worldwide than Apple did in the fourth quarter of 2017, but 87% of industry profits ended up in Cupertino according to Canaccord Genuity. Despite a 30% increase in the brand valuation from last year, Google finished second with a brand worth $132.1 billion. The company has made up ground on Apple over the last three years. The rest of the top five includes third place Microsoft ($104.9 billion brand valuation), fourth place Facebook ($94.8 billion) and the aforementioned Amazon ($70.9 billion).
Other companies that are familiar to
PhoneArena
readers include Samsung, which edged out entertainment giant Disney for seventh place. As far as the major U.S. carriers are concerned, AT&T just made the top ten with Verizon at number 19. T-Mobile is listed at number 72. The last mobile tech name on the list is Huawei, found at number 79. Right now, it is the only Chinese smartphone manufacturer to crack the top 100.
The complete list can be found by clicking on the sourcelink.