Follow-up to LG Optimus G planned for Q3 2013
20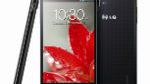 The LG Optimus G Pro is expected to hit the US
fairly soon
, but word is already coming out about the plans for the follow-up to the LG Optimus G. According to Engadget, the next version of the LG Optimus G is planned to make its way around the world in Q3 of 2013.
LG's Head of Mobile Marketing, Won Kim, told Engadget that the follow-up to the Optimus G is going to be "something different and something unique". We're not exactly sure what that could mean though. The only detail given so far is that the next-gen Optimus G will not be following the G Pro with a 5.5 inch screen. Instead, the screen is expected to be "closer to the 5-inch mark".
So, LG is going to be putting its next flagship up against some pretty big competition, since that would be around the time we would expect to see the Note III and the Nexus 5, not to mention the
Motorola X Phone
.