Flurry report confirms Samsung's domination of Android; Korean OEM is the real threat to iOS
59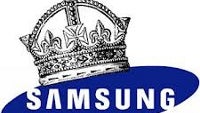 Mobile analytics firm Flurry did a study of 45,340 Android devices in May and was able to put into numbers the fact that Samsung is dominating the Android platform. The study was conducted on a combination of phones (88%) and tablets (12%). The results showed that 59% of the handsets were wearing the Samsung brand, as were 42% of the tablets.
Flurry extrapolated the results over the 576 million Android devices that it says it is following (506.9 million smartphones and 69.1 million tablets) and says at the very least, there are 299.9 million Android flavored handsets in use, branded with the name of the Korean OEM. Flurry also says that 29 million Android tablets made by Samsung are active today.
Flurry's stats also show that those owning a Samsung branded Android phone spend 14% more time using apps than owners of other Android powered handsets. On the tablet side, users of Samsung's Android tablets spend 10% more time with their apps than other users of other Android flavored slates.
Also interesting is the breakdown in demographics which shows that those who buy Samsung manufactured Android devices are in the age groups and social backgrounds that advertisers seek. Additionally, the demographics of those who buy Samsung's Android products are similar to those who buy iOS powered devices. "
In those respects, they are more similar to owners of iOS devices than owners of other Android devices are
," says Flurry's Mary Ellen Gordon.
The bottom line, as Flurry sees it, is that iOS faces a three pronged threat. One threat is not from Android as a whole, but from Samsung. Two, is the threat from Amazon. Not only is the Amazon Kindle Fire tough competition for the iPad, but there is the chance that the online retailer will come up with a low priced phone. And lastly is the threat from China where domestic manufacturers are definitely showing momentum with their Android powered models.
Apple obviously is smart enough to know just which company gives it the toughest competition. Witness the millions of dollars and man-hours spent keeping its Korean rival in court.
source:
Flurry
via
TheGuardian
Recommended Stories