Flir One infrared attachment turns your phone into a Predator with thermal vision
2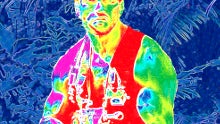 Remember
FLIR's bulky infrared heat vision camera case
that was shown wrapped around an iPhone back in 2013? Well, the Flir One contraption has all grown up now (or, rather, slimmed down), and is no longer cost-prohibitive for the average user.
FLIR stands for Forward-Looking Infrared, and that is exactly what the company has delivered. The heat mapping accessory allows your phone to see in the dark with a Predator-style thermal vision. Flir One consists of two cameras - one infrared, and one with 640x480 sensor for the visible spectrum. The device merges the two resulting images, shaping the colored thermal spots outed by the infrared sensor, into the actual contours of your cat sitting in the middle of the dark living room, for instance.
Unlike the only similar accessory on the market, Seek, Flir One draws energy from its own battery, and way more features. With the adjacent app, for example, you can move a crosshair around the image after the shot, and read the temperature of the various objects in the scene individually. Alternatively, if you are looking to see if the
Snapdragon 810-laden phone
in front of you crosses a certain thermal threshold under pressure, you can set a temperature range to look for.
How much? The Flir One gizmo will set you back the reasonable $249, if you have a use for such a thing, and an Android version with a microUSB dongle is coming next month.