Flipboard arrives to Android slates with a full-blown tablet layout
5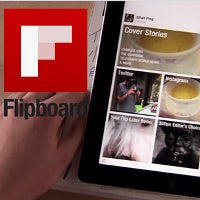 The innovative Flipboard news reader passed
twenty million active users this past summer
, for just two years in existence. No wonder, considering how easy it makes following the hundreds of news bits we get inundated with every day.
After setting shop on the iPad, looking made for tablets, now Flipboard got updated with an Android tablet version, too. The app has been adapted to offer more, considering the larger screen realities of tablets like the
Nexus 7
or the
Nexus 10
, or any other Android slate, for that matter.
On 10-inchers, for instance, Flipboard users can place more tiles on the screen now, making more content visible at once. All the other features, like a settings account and social network sharing we've grown accustomed to, stay in the tablet version as well, it is just the layout which takes better advantage of the larger displays.
Flipboard Arrives On Android Tablets
December 20, 2012 – Palo Alto, Calif. – Today, Flipboard launched its social magazine on Android tablets, a top request from Flipboard readers around the world. Read by millions every day, Flipboard lets people enjoy local news, world updates, blogs they love or simply catch up on stories from friends. Now, anyone with a Samsung GALAXY Note 10.1, GALAXY Tab series, Nexus 10 or other tablet that runs Android, can download Flipboard for free from the Google Play Store.
"With the new devices that Samsung, Amazon and others have brought to market in the recent months, we see the adoption of Android tablets growing quickly," said Eric Alexander, Head of International Development at Flipboard. "As more people buy Android tablets for themselves or others over the holidays, we wanted to make sure Flipboard is part of their tablet experience and deliver on a top request from our readers."
For this tablet edition of Flipboard, page layouts have been optimized for a variety of screen sizes and aspect ratios. Taking advantage of the wider screen of the larger Android devices, readers can save more of their favorite sections as tiles and can see larger story excerpts as they flip through their magazine. And having worked with Samsung over the last year, Flipboard is optimized for Samsung's tablet devices. .
Flipboard was already available for Android phones. Devices with a seven-inch-screen, such as Kindle Fire, NOOK and Nexus 7 were able to run Flipboard for Android phones. Now, owners of these devices will automatically be upgraded, while having the option to continue using the phone edition. Kindle Fire and Nook users can find Flipboard in their respective app stores.