Flexible displays coming "within a year", claims Samsung
31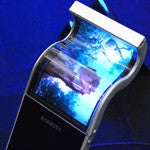 Samsung has been promising flexible OLED displays for what seems like ages now, but an executive confirmed yesterday that these new trick displays are on track to ship "within a year."
Last year we were promised that we'd see them in 2012
, so while "within a year" could mean early 2013 it looks like they are largely on schedule. We call them trick displays and you've no doubt seen some crazy images like the photo to the left of a wavy smartphone, but in reality these displays will bring advantages other than odd-shaped devices.
Since the displays are flexible and don't use glass they will be nearly unbreakable, meaning the next time you drop your phone your display isn't going to shatter. We've seen some crazy prototypes of paper-esque displays and see-though panels, but what what's likely to come to market are rounded displays that were not possible with traditional LCD or AMOLED panels. Flexible displays make things like watch phones and wearable computers a lot more practical, and as the technology progresses we will likely see more innovative applications as designers think outside the box.