Flex your muscles to control games with this Biofeedback Game Controller
1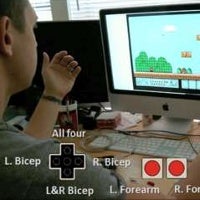 The
way we interact
with our phones is crucial to the success of a device. Smartphones came with huge screens and with the extremely responsive display on the first-gen iPhone, swiping, tapping and pinching became the new standard for user interaction. Still, there's a myriad of additional ways we naturally interact that still haven't arrived on smartphones. What if you could flex your muscles to control your device? We can think of others as well, but this is one is a reality thanks to biomedical company Advancer Technology.
How did they do it?
Electromyography. Okay, this doesn't tell us anything either, but digging deeper to translate this to lay men terms, this leverages the electrical activity produced by skeletal muscles. Combined with a low-cost and powerful enough Arduino UNO microcontroller, the company created the USB Biofeedback Game Controller allowing you to control games by just flexing your muscles.
Best workout ever?
Well, not exactly, but here's an example of how you control Super Mario - left forearm controls B button for run/attack, right forearm controls A button to jump, left bicep controls the left button, and right bicep controls the right button. You'd best understand it when you watch the video below. Now the practical applications are not that immediately obvious, but "using your muscles to control computers, robots, video games is fun no matter what your age," the company says. With the increasing number of tablets arriving with USB support this could someday end up on users' arms. Would you want one?