Flappy Bird arriving to Windows Phone 'in 10 days', promises developer
21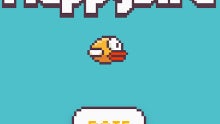 The
goofy
addictive new star on the game block,
Flappy Birds
, will soon creep up on your Windows Phone device, after appearing on Android last week.
The endless runner game, where you basically tap the screen to nudge a bird into the air and have it "flap" through one-point obstacles, has retro-styled graphics, and purposefully cumbersome controls, which seems to be a recipe for success these days.
Its developer took to Twitter, and responded to numerous fan questions that he will indeed make the game available on the Windows Phone platform, too.

When asked about a possible timeframe, Dong Nguyen replied that he is now updating his iOS apps, but the Flappy Birds WP port will be his next project, and he expects to see it in the Windows Store in about ten days, as the game first has to go through Microsoft's approval process.