Flagship depreciation: Galaxy S7/edge vs LG G5 vs HTC 10 vs iPhone price drops
31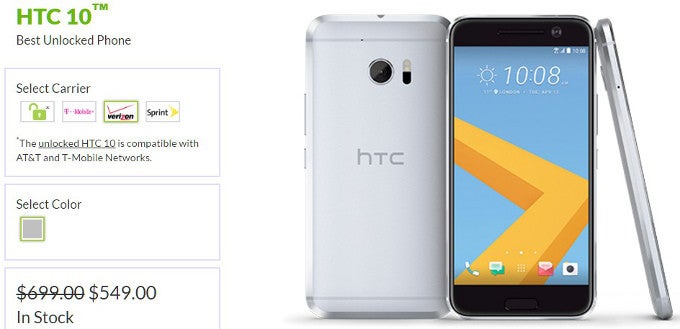 HTC 10 has lost more than 20% of its price since launch
It often gets overlooked or buried among arguments about specs and user experience, but price depreciation should be one of the major factors on the user's radar when picking a phone, unless you really don't care about money. A high-end phone from the popular brands costs north of $600 these days, and may even hit $800+, depending on the storage, edition or configuration, so how cheaper it becomes over time is not without financial consequences. Even if you are of the type that always splurges on the latest and greatest, it still matters what price you can get for your current handset, and those who depreciate slower are like a good wine - they age well.
On the other hand, whether you will lose a 20% or a 50% of your initial investment could play a role in your decision whether to pick the season's finest, or its predecessor, for instance, which may now be half off brand new. This is why we checked how the top brand-name flagships depreciated from their launch prices, as we are on the cusp of having their successors revealed, with their own hefty price tags in tow. Apple's iPhone 6s is also thrown in for comparison, though an iPhone's depreciation is always known beforehand.
We are only listing the prices for carrier phones, or
compatible unlocked ones
straight from the manufacturer, as 80% of US wireless customers shop for phones in this way. Granted, you can get them for cheaper over at Amazon or eBay, but these are mostly international versions either compatible only with AT&T or T-Mobile's GSM networks, or without warranty, and often both, so we stick with the official pricing. We are also not including any current purchase bonuses or promotions, just the cold hard cash required to buy the phone outright from a carrier or manufacturer's store.
Launch price
Current price

Samsung Galaxy S7

$649 (Sprint) - $695 (AT&T)

Average: $672

same

Samsung Galaxy S7 Edge

$749 (Sprint) - $795 (AT&T)

Average: $772

same

LG G5

$630 (T-Mobile) -$689 (AT&T)

Average: $660

$408 (T-Mobile) -$689 (AT&T)

Average: $560

HTC 10

$648 (Verizon) -$699 (HTC)

Average: $673

$549 (HTC for all carriers)

iPhone 6s

$649
$549
If we look at the graph below, the steepest, 22% price decline for a 2016 flagship went to HTC, but the average numbers don't tell the whole story. The worst offender may be the LG G5, as it can currently be had for ~$400 on T-Mobile, or at Amazon compatible with Verizon's network. That's about a 35% drop from its average launch price, while the Galaxy S7 and S7 edge now go for roughly the same prices they were launched at, for instance, no discounts there.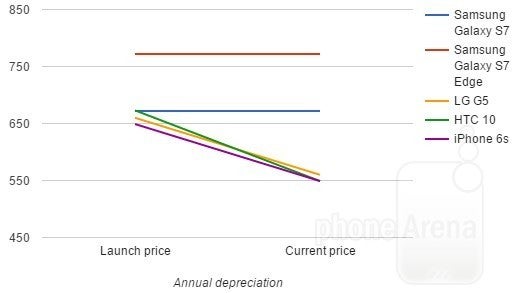 It was quite the strange year, though, as the
Note 7
drama resulted in people picking the S7 or S7 edge instead, while the G5's unorthodox modular construction may have hindered its wider adoption. Apple, on the other hand, is rather predictable with its $100 off the older model when it launches the new one, so you always know it will discount no more than 15% from one iPhone to the next.
Thus, if you want your expensive high-end phone to keep as much value as possible, regardless of whether you are on iOS or Android, the obvious choices seem to be Apple or Samsung, the world's largest phone makers, how's that for an easy choice?