Five Android apps for guitarists – beginners, intermediates, and advanced
4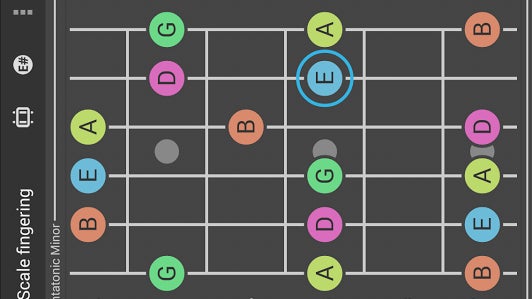 Hey there, string-plucking aficionados! We sure hope you've been having fun so far, on the trip of mastering Rock'n'Roll's signature instrument (hey, you may aspire to only be a hobbyist, but you can still master playing it badly, right?)! Have you thought about assisting yourself with some apps? Believe it or not, there is a whole heap of them out there. On that note – if you consider yourself a beginner – check out
these 5 apps
, specifically catered towards learning the instrument.
Now, if you have some of your bases covered, maybe you are looking for that next step – learning more songs, challenging yourself, developing and perfecting your skills. That's neat – keep on going, and let us suggest a few apps that may help you along your way!
Chromatic Guitar Tuner
Price: free
Well, first things first – you've probably already learned of the importance of having a tuner handy at all times. Unfortunately, being forgetful is part of an artist's modus operandi, so it's always best to have a plan B in your pocket. Using your phone's mic for sound input is not ideal, but if worst comes to worst – at least it's something.
Out of the tuner apps in the Play Store, we find Chromatic Guitar Tuner to be a great mix between visuals, functions, and operation, free and without stuffing ads down our throats.
Metronome Beats
Price: free
Whether you aspire to be a bedroom warrior, a local rock star, or a world-class studio musician, you are getting nowhere if you are off-beat. Practicing with a metronome whenever possible will both keep your rhythm sense in-check, and help you progress a little faster.
Metronome Beats is one of the better metronome apps out there. It offers a Practice Mode, which automatically increases the speed of the beat once every "x" bars. It also has an auto stop option so you don't fly off while practicing Master of Puppets.
Guitar Songs
Price: free
So, you know some chords and you feel confident in switching between the basic fingerings – that's great. Time to pick up that acoustic and wow everyone at the party, but you can't possibly remember 50-60 songs yet, right? Guitar Songs will give you lyrics and basic chords for a lot of popular pieces – the perfect app to keep in handy when heading for a campfire or a garden party with your guitar over your shoulder.
Guitar Chords and Tabs
Price: free
OK, enough strumming, time to get serious. Now that you feel like you want to learn the songs more in-depth and actually play riffs and solos, this app will help you find the tabs you need. Not that learning by tabs is the best course of action – by all means, do try to practice figuring out a song for yourself, whenever you feel confident. Still, they are a nice starting point, and good for reference whenever you're in doubt.
Chord!
Price: free
So, you've started learning songs by ear, maybe even composed a piece or two. Basic chord knowledge is no longer cutting it and you are looking at various libraries. Well, Chord! is a real treat for harmony hunters. What's special about it is that it doesn't rely on a database of previously entered chords, but rather uses an algorithm, which calculates harmonies and fingerings on the fly. The developer has made full use of this computing prowess, giving us functions such as reverse-engineering chords (enter the notes you know are being played and the app tells you which possible chord it is), harmony searching and matching – good for composing leads, and a ton of scales for your learning pleasure.
Special Mention: Yousician
Price: free (subscription-based)
We wanted to stick to free apps with this one, but Yousician deserves a special mention. It's a subscription-based service ($119.99 per year), which features lessons, challenges, missions, and rewards – everything the creators could think up of to keep nudging and motivating its users. Lessons range from beginners, to intermediate, to advanced, and it's certainly worth the asking price if you are serious about sticking to the training schedule.