First to the race: Apple or Android?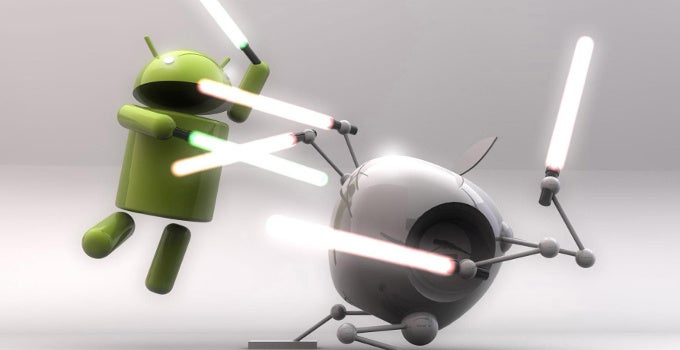 It's the question that sets conversation on fire amongst the nerdier crowds: who was first to the race with a particular feature: Apple with its iPhone or Google with one of its countless army of Android phones?
We asked you this question recently, and now, it's time to look at the answers to those questions and your votes about them.
#1: Who came up first with an on-screen keyboard?
The T-Mobile G1 launched in October 2008 to the tune of the following highlights: 3.2" display, Android running at version 1.1 (no sweet names were publicly associated with those early versions), a signature chin-up design, and a physical, slide out QWERTY keyboard.
The reason for the latter, however, is not just convenience - Android at that version simply did not support a virtual, on-screen keyboard. The physical was thus the only way to type on the device. This is an interesting little detail showing how little faith Android engineers had in the efficiency of a virtual keyboard.
Luckily, they quickly changed their position on the issue. Some six months after, Android 1.5 Cupcake was released, and the update brought one of the key features that we take for a given on all modern smartphones now - a virtual keyboard. It took quite a while until the Android world was ready to dump the physical keyboard completely. That happened with the launch of the HTC Nexus One in March 2010. Fast forward to today, and a device with a physical QWERTY keyboard would look strange at best. That's progress for you.
So yes, that does mean that the original Apple iPhone that launched way back in mid 2007 was the first to the race here as it shipped with an on-screen keyboard.
#2: Who was the first to have a fully functional modern app store?
Correct answer:
Apple
Apple is first to this one. The iPhone App Store opened its virtual doors on July 10, 2008, via ways of an iTunes update. It embodied Apple's approach to apps: one of quality control and one to take a cut of the price of the app for operating. A day after the iTunes update, Apple started selling the iPhone 3G that came pre-loaded with iOS 2.0.1, the newest version at the time and it had App Store support.
The Google Play Store (initially, Android Market) was officially unveiled on August 28, 2008, but only arrived to Android users a few months after, on October 22nd. It introduced support for paid applications on February 13, 2009, a feature that was initially reserved for developers in the United States and the United Kingdom only. What's notable about it is its different approach: Google did not vet apps and you did not have to wait for long approval times to get your app out there.
#3: Who was the first to feature 4K video recording?
Correct answer:
Android
This is an easy one: Android phones have been offering 4K video recording since late 2013 when the Samsung Galaxy Note 3 first introduced it with a limitation of 5 minutes. Quite a few phones since than have arrived with support for 4K video, but the majority still have that suffocating, 5-minute limitation.
Apple's iPhone only started recording 4K video with the
iPhone 6s
in the fall of 2015, so it was definitely late to the 4K party. Yet, it's worth noting that Apple did many things better here: unlike Android phones up to this date, it introduced a new version of iMovie - a full-blown video editor on mobile - that supports 4K video, plus, the iPhone does not have any time limitations when it comes to 4K video recording.
#4: Which platform was first to have widgets?
Correct answer:
Android
If you guessed this one wrong, then you must have been living in a cave in the past few years. Android fans have repeatedly proudly stated that their platform was the first to support widgets, and later in time, it even got lockscreen widgets and other fancy customization options.
Apple, in comparison, introduced widgets in a very different manner and much later: with iOS 8 in mid 2014. Rather than allowing widgets to clog up space on your homescreen, they found a new home in the today panel, in a dropdown menu that you bring by swiping down from the top. While seemingly limited, it seems that Apple has not only caught up in functionality, but this kind of dynamic information in the notification dropdown is simply not available on Android in many cases. Lockscreen notifications on Android have also, interestingly, been quite limited in the latest versions of Google's platform.
#5: Who was the first to have multitasking?
Correct answer:
Android
Android grabs the title here easily. Google's platform was built from the ground-up with 'real' multitasking features and none of the aggressive app killing policies of the Apple iOS. iOS, on its part, has only supported multitasking since iOS 4 released in the summer of 2010, and phones such as the iPhone 4 and iPhone 3GS are the first to support it (earlier models were not capable).
#6: First with a 64-bit system chip?
Correct answer:
Apple
Here, a disclaimer is due: we're talking about the first commercial mobile product to have a 64-bit ARM chip. And Apple has the lead here: the iPhone 5s with Apple's A7 system chip was the first to jump to the new instruction set and set the path forward for the whole mobile industry.
The transition, however, was a lengthy one and we only started seeing phones with 64-bit chips en masse in the beginning of 2015 when Qualcomm rolled out its new Snapdragon series.
#7: First with a fingerprint scanner?
Correct answer:
Android
This tricky question can be answered both ways, but the technically correct one is to say that Android phones were first to the race with a fingerprint scanner. Way back in the dark days of phones, the Motorola Atrix 4G released way back in 2012, brought a fingerprint reader on its back, but with limited platform support and use, the feature seemed a bit gimmicky and not fully mature.
Apple's iPhone, on the other hand, arrived late to the show - close to the end of 2013, but it came with system support for the fingerprint scanner and not long after, Apple introduced Apple Pay in the United States, so that you could use your fingerprint to make secure, cashless payments.
#8: Which platform was the first with a phone payment system (via NFC)?
Correct answer:
Android
Again, a double-edged question, technically, Android was first to the race with the Google Wallet app and platform (released in September 2011) that allowed for NFC-based payments, but this was not an ideal solution: support was scarce, and many Android phones at the time simply did have an NFC chip.
Apple, however, rolled out their own system - Apple Pay - at scale with the
iPhone 6
and it quickly caught up. While it was not first to the race, it did seem to have the larger impact.
#9: Who was the first to offer split-screen multitasking?
Correct answer:
Android
Well, this one is easy, isn't it? Android phones like Samsung's Galaxies and LG's top devices support split-screen multi-tasking and it works great in the latest gadgets by the two companies. The Apple iPhone, on the other hand, still does not support this feature.
#10: First with voice actions?
Voice dictation has been around for a long while, steadily evolving and becoming better and better. Despite all those nuances, though, there is no arguing that Google is in the clear lead here: Android with 2.2 Froyo was the first to support voice actions, while Apple only added its smart voice actions with the iPhone 4s, when it introduced the Siri smart assistant.