First smartphone with two-sided transparent display gets a prototype, demonstrated in Japan
12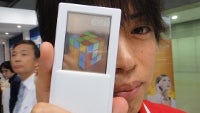 The first prototype of a device with a double-sided and transparent display was demonstrated recently in Japan, and this sci-fi project coming to reality is a joint effort of NTT DoCoMo and Fujitsu. The transparent two-sided OLED touch screen smartphone comes with two touch panels, up front and on the back, so for example you can swipe between home screens by touching the back and not have a finger in the way.
Currently, the prototype shown packs a 2.4-inch display with a resolution of 240x320 pixels which is still too low to end up in a final retail device, but the technology continues to evolve.
Just a couple of days ago, we saw the first extremely affordable feature phone with a transparent touchscreen, but it wasn't touch sensitive.
You can check out the display in action in the video below, and here are some text excerpts from there:
"You could hold down an icon on the front, and slide on the back to move an icon, or use the message bar, or create a new application. For example, from the front, you can only move the whole Rubik cube like this, but if you slide your finger across the front while holding down the back, you can rotate just one face. So this display makes gripping operations possible."
"The display is QVGA (320 x 240), at 2.4 inches. We think it needs to be bigger if we're to market this kind of phone. But even in this form, we think it could be used as a sub-display. In that case, it will have a limited display capability, so we think the range of applications could be wider."
"Compared with a standard smartphone, this one still has slightly low brightness, so it's a bit hard to view in bright places. We'd like to improve the technology to overcome things like that."