First sample images from the Sony Xperia Z are yummy
27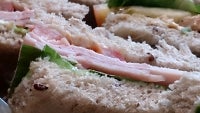 Taking sample images with display smartphones at tech expos is not an easy task, as the companies balk at commenting on prototype samples, and there is usually no easy way to send or download the photos off the device, not to mention the expo centers interior is not very exciting to photograph in the first place.
Still, a few nimble previewers managed to snatch quick macro and regular shot with the
Xperia Z
, and of the most frequented conference place paraphernalia at that - the snack table.
The photos are pretty decent, with noise kept in check for the sake of some detail smearing; other than that, the colors are vibrant and the pics look sharp. What we would really like to see though, are the
HDR video
samples, and we'll try to get some of those before the expo ends.