First real-life reviews of Siri reveal your virtual assistant has attitude
57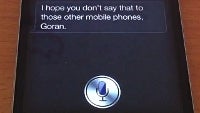 It's one thing to watch the scripted and polished presentations of
Siri, the voice-recognition assistant on the Apple iPhone 4S
, during the keynote of its announcement or on Apple's website, and another to try it out in everyday chatter.
Apple has thought about the small details, predicting that people are going to be trying Siri with all sorts of phrases like "I love you", and has planned for answers accordingly.
We won't spoil the fun, just watch the video below, but it seems that Apple has really gone far and beyond voice recognition commands with Siri, and has brought it a step closer to everyone's dream of a useful virtual assistant. Let's not forget that the service is still in beta, which is pretty unusual for Apple, and Cupertino is in uncharted territory whether people will adopt and use it on a daily basis. Oh well, if it catches on, the iPhone 4S users might stay forever in the public's memory as "those crazy guys on Metro".