First iPhone 5s commercial sells the gold experience
44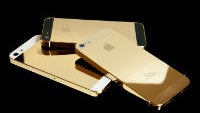 Since the two new iPhones were released just about one month ago, the official ads from Apple have been exclusively focused on the iPhone 5c and not the higher-end iPhone 5s. The general theory is that Apple wanted to make sure its 5s production issues and supply were ironed out before starting marketing campaigns, and it looks like that time has come.
Apple began print ads for the iPhone 5s just a few days ago, and today the company (along with Verizon) has released the first TV spot for the iPhone 5s. The ad shows what looks to be liquid gold flowing and forming into an iPhone; and, if you didn't know any better, you might start to think that the iPhone 5s is actually made of gold (or maybe LiquidMetal).
Of course, the phone is really just champagne gold colored aluminum, but Apple is definitely working to build a stark contrast between the iPhone 5s and the 5c. The iPhone 5c is (supposedly) "unapologetically plastic", but Apple is pushing the premium feel of the 5s. This further shows exactly
why Apple chose this path
. Not only will the plastic casing of the 5c increase product margins, the company needed to make it clear what was the high-end and what was the mid-tier. And, that wouldn't have been possible if it kept the tradition of leaving the last gen device (which looks exactly like the iPhone 5s) on store shelves.
source:
The Verge