First case of Android running on HP TouchPad caught on video
8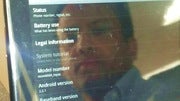 What would happen if the HP TouchPad could run Android instead of its native webOS platform? Although it was not originally meant to do that, in terms of hardware, the tablet is more than capable of booting Google's operating system, and there is already a team of developers
trying to turn this crazy idea into reality
.
However, somebody seems to have beaten them to it. There is a rumor circulating on the web claiming that a Best Buy customer who took advantage of the tablet's aggressively discounted price of $99 received a unit,
which had Android 2.2 Froyo installed instead of webOS
. Although we cannot confirm the credibility of the story, there is a video showing the Froyo-flavored TouchPad in action, so there might be some truth to the rumor after all.
In the video, the guys mention that it is Ubuntu actually booting prior to Android, so it may be the popular Linux distribution that is installed natively on the device with Froyo running in a virtual environment of some kind. Soon after that, the QuIC (Qualcomm Innovation Center) logo pops up, meaning that the guys at Qualcomm might be in the bottom of all this. That seems to be a logical explanation as they are the ones who provided the chipset that ticks inside the TouchPad, so the software that was needed to get the thing humming was already at their disposal.
Unfortunately, further details remain unclear so we have no idea how this special HP TouchPad made it into the wild. Nevertheless, those who managed to grab a unit on the cheap might have an evil grin on their faces right now in anticipation of the first working Android port for the TouchPad to see the light of day.