First camera samples from HTC's plastic flagship, the One E8, appear in China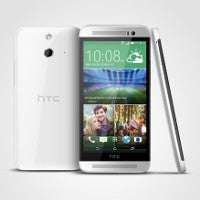 Not even a week has gone by since HTC finally put all the rumors to rest with its unveiling of the
One E8
. Sounds familiar? That's not a coincidence -- the One E8 is very, very similar to the
One M8
HTC flagship (in both name and looks), with very few, but quite important differences.
To start off, the One E8's unibody is entirely made of polycarbonate, not aluminum. The idea is for it to be a more affordable version of HTC's fashionable top shelfer, and it indeed is. In China, for example, the E8 sells for the equivalent of about $450, while the M8 goes for the much steeper $850. Of course, material use and pricing isn't the only thing that HTC tweaked with the E8, as the more discerning type would quickly point out. True enough, the controversial 4-megapixel UltraPixel camera with its depth sensor sidekick is nowhere to be found on the plastic-y One E8, which instead boasts a more traditional, 13-megapixel snapper.
So does that necessarily mean an improvement? Well, a number of HTC One E8 camera samples, published on popular Chinese blog, ePrice, should be a starting point to your answer. We don't usually go in depth when another outlet's samples are concerned for obvious reasons, but we'll note that, at a glance, it does seem like this particular 13MP snapper won't exactly be capable to trade blows with the best there is right now. But, given the price tag of the E8, why should that worry you at all?
Note: Due to their size, samples may take a while to load, depending on your connection. You can find more samples in the source.