First Samsung Galaxy J7 (2016) and J5 (2016) photos show up - is that laser auto focus?
14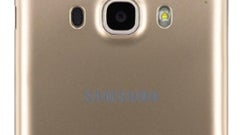 Last summer, Samsung launched the
Galaxy J5
and
Galaxy J7
as its first smartphones to feature front-facing cameras with LED flashes. Now, the company is getting ready to release successors to both devices, aptly called
Galaxy J5 (2016)
and
Galaxy J7 (2016)
.
While Samsung hasn't announced the new J5 and J7, we can take a look at them thanks to China's Telecommunication Equipment Certification Center, which just approved both devices.
The Galaxy J5 (2016) and Galaxy J7 (2016) look pretty much the same, though the J7 is larger, thanks to its 5.5-inch 1080p display (vs. the 5.2 inch 720p screen of the J5). Compared to last year's J5 and J7, the new handsets are a tad more elegant, but they're probably still made out of plastic.
The Galaxy J7 (2016) has to variants: SM-J7108 and SM-J7109. There's only one difference between them: the SM-J7108 is powered by a 1.6 GHz octa-core processor (possibly the
Exynos 7870
), while the SM-J7109 is powered by an unknown octa-core processor with four cores clocked at 1.5 GHz, and other four cores clocked at 1.2 GHz. That aside, the new J7 features LTE, a 13 MP rear camera, 5 MP front-facing camera (with LED flash, of course), 3 GB of RAM, and 16 GB of expandable internal memory. Previous rumors had it that the device would pack a massive 4300 mAh battery, but it looks like there's
only a 3300 mAh battery inside
.
Having a smaller screen with a lower pixel resolution, the Galaxy J5 (2016) is obviously less advanced than the J7. While its cameras appear to be the same 13 MP and 5 MP ones from the J7, its processor is a quad-core 1.2 GHz one, and there's only 2 GB of RAM on board (plus 16 GB of expandable storage space).
Interestingly, both the Galaxy J7 (2016) and Galaxy J5 (2016) seem to have laser auto focus for their rear cameras - or at least that's what the photos that we can see below suggest. If that's true, these will be Samsung's first smartphones to feature this type of auto focus technology - which first debuted on the LG G3, but quickly
made its way to various other handsets
.
Sadly, at the moment, the new Galaxy J7 and J5 smartphones are running Android 5.1 Lollipop. However, we hope that they'll be released with Android 6.0 Marshmallow on board (whenever Samsung decides to launch them).