First Android M rumors speak of cars as de-facto Android devices with Google services, manufacturer skins, and iOS rivalry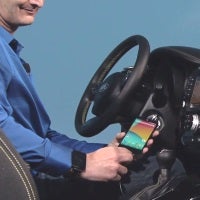 As the majority of smartphone owners are yet to get the dreamed Android 5.0 Lollipop update, Reuters became the first to break cover of the next-in-line Android version, Android M. After it conquered most of the world's mobile screens, it appears that Google is now eyeing automotive dashboards with the intention of building Android directly into cars - no smartphones attached, no dated proprietary interfaces on blurry displays. Apparently, this is the next step after
Android Auto, which is coming to specific models next year
. At present, AA is far from a seamless solution, as it requires pairing a smartphone or tablet to a compatible car with a built-in screen.

Reportedly, Google's digital car engine will be a piece of new functionality in Android M, which is expected to arrive next year on smartphones, tablets - and cars, it seems. There are some interesting questions to be had here. Could this be the first step towards Android repeating its smartphone success with connected cars? And is the Android vs iOS fight about to reach the vehicle market as well? The last one sounds equal parts amusing and frightening, but it's a predictable possibility - after all, Apple has been at work with CarPlay for a while, and is no less ambitious.
Analysts are cautious - they say Google will face technical and business challenges on its way to make more manufacturers believe in Android Auto 2. Still, it's already inked contracts with Hyundai, General Motors, and Nissan, which is a good start. Additionally, Google will have to make Android boot instantly, or really fast as you turn the car on.
Functionally, the new operating system could integrate Google services with the car's camera, sensors, fuel gauge, and internet connection, opening up all sorts of interesting possibilities. Also, can you imagine car makers coming up with their own Android car interfaces? They totally have to, because if mass production cars run the same Android, they'll have to differentiate their operating systems somehow. Interesting stuff, for sure!