First Acer Iconia B1 previews surface
12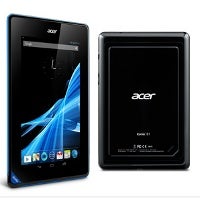 The Acer Iconia B1 is one of the most exciting devices we expect to see at CES not just for its specs which are rather mediocre but for its unmatched price tag. The 7-inch tablet is expected to hit retail shelves with a base price of around $149.
This would make it the cheapest tablet offered from a non-white-box manufacturer, and good news is first prototypes are already hitting retailers. Bulgarian retailer Tablet.bg got a hold of on of those Iconia B1 prototypes and it was eager to share its experience with the affordable tablet.
First, the specs, though. The Acer Iconia B1 features a 7-inch 1024 x 600-
pixel
display, runs on Android 4.1.2 Jelly Bean powered by a dual-core MediaTek 8317 1.2GHz chip and 512MB of RAM. Internal storage is 8GB, but it is expandable via microSD cards and there is a VGA front camera capable of recording 720p videos at 30fps.
Best of all, the tablet only weighs 308g (0.68 pounds), so it should be great for holding longer with one hand. Other nice touches are the good sound quality and relatively thin body.
On the downside, though, the Iconia B1 is said to have a mediocre TN display with poor viewing angles. The pixel density is as much as on the iPad mini so we would not really hold it for a downside given that Acer's tablet costs less than half Apple's 7.9-incher.
Take a look at images of the prototype right below.
source:
Tablet.bg
First Acer Iconia B1 previews surface