Find the lost schematics and win a free Star Wars edition DROID R2-D2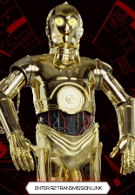 The Rebel Alliance needs your help. The plans for the Special Edition DROID R2-D2 handset have been stolen by the Empire and have been scattered across the internet. At least according to the new contest that Verizon is running to promote the limited edition version of the DROID 2. Your mission is to find the eight code sequences that each correspond to a fragment of the phone's schematics.
Each sequence is made up of a number of letters, numbers or both. Putting the clues together will help you get the information needed to solve the puzzle. Of course, this is not going to be easy, and Big Red has arranged for some big guns to help you out. You can follow R2-D2's transmissions by following @DroidLanding on Twitter, and C-3PO has been put on retainer to help you out along the way. For more information on the contest, visit the Source Link. And we would be remiss if we didn't say, "May the Force be with you". The contest ends September 30th.
source:
Motorola