Fight epic battles against pixelated monsters in Tiny Dice Dungeon – a turn-based RPG
1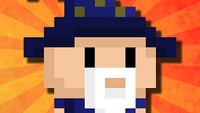 Luck is always a factor in video games. In some instances, it can make the difference between victory and defeat, which is why it is sweet having Fortuna by your side. And in case you're feeling particularly lucky today, then here's a game you can try – Tiny Dice Dungeon.
TDD is a a turn-based RPG with a retro feel, in which tiny heroes get to challenge humongous beasts. What does luck have to do with that? Well, the strength of your attack is determined by a pair of dice. The higher the number you throw, the stronger your slash will be. Throw a one, however, and you have to skip a turn. You might think that the game's dice-based mechanics take away much of the player's control over the gameplay, but that isn't exactly the case. You may roll the dice as much as you want and you may pick which monster your hero should attack.
Speaking of monsters, there are tons of them in Tiny Dice Dungeon, ranging from tiny creatures with weak attacks to gigantic bosses that wipe a third of your hero's health in a single turn. Eventually, you'll get the chance to bring some of these monsters to fight by your side, and having a large, strong party is essential for clearing the latter stages.
Tiny Dice Dungeon is a free game and can be enjoyed without spending any real money on in-game purchases. Those who find it too difficult, on the other hand, may get an advantage by purchasing extra dice pieces.
| | |
| --- | --- |
| Developer: Kongregate | Download: Android, iOS |
| Genre: RPG | Price: Free (with in-app purchases) |