Feel the burn! 5 phones with thermal spreading heat pipes for 'liquid' cooling
20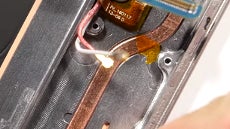 When the
Galaxy S7
and
S7 edge
were announced, the first teardowns of the handsets revealed some sort of a thin flat heat pipe running away from the processor area, presumably a cooling effort, like the ones on Sony's high-end Xperias, starting way back with the
Z2
, or the
Lumia 950XL
. Samsung then confirmed that the phones do indeed feature this, when talking about its new Game Launcher setup: "
the cooling system in these phones, with a very thin thermal spreader, keeps devices cool, so gamers can focus on winning
."
There you have it, no liquid nitrogen running in your phone, pumped by tiny goblins to swoosh elegantly around the CPU in clouds of frozen mist. What we do have is flatter copper alloy piping with a drop of water inside that evaporates when it hits the CPU area, takes the heat away, then condenses back into liquid to run down the metal mesh inside and repeat the process, spreading the heat in a more equal manner, so that the CPU and your hands don't feel the burn.
Samsung already detailed the challenges
it encountered when designing one the smallest thermal spreaders from scratch, but that's not the only game in phone town as far as heat pipes are involved. Check out the coolest kids on the heat dissipation block below.