Fake image alert: Sony Windows Phone is just a skinned Android
34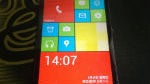 It looks like someone in China may have seen our post about making your Android look like Windows Phone, because there are new pics going around that claim to be a Sony device running "the latest version of Windows Phone". Unfortunately, even a cursory glance will tel you know that the images just show a skinned Android device.
We like to catch these things before they pick up too much steam, because once a bad rumor starts spreading, it is much more difficult to beat back. We got a tip from a reader saying that Sony could be working on a Windows Phone. The story intrigued us, because we would very much like to see Sony make hardware for WP, just like we hope it is true that HTC is working on a WP version of the One. WP is a solid platform, and it deserves good hardware from more manufacturers than just Nokia.
Unfortunately, you can quite easily see in the images below that this is a skinned Android device. It has the Android soft buttons with Sony's skin on the bottom, and what is obviously an Android notification bar on the top. Maybe Sony will make some Windows Phone hardware soon because the Vaio Duo tablet/laptop Windows 8 hybrids have looked pretty good.
Recommended Stories