FCC greets the Apple iPhone 4, here's an SAR comparison
3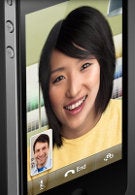 No one is tired today of the
iPhone 4
, and apparently the same goes for the guys and gals at the FCC, who have now published their reports on Apple's new device. Not much to look at, as one might expect, just a bunch of documents and test results. Still, we thought someone might be interested in going through them. You'll find the link at the end of the article.
In the mean time, here's a small table we put together to compare the "Head" and "Body" SAR values (measured in W/kg; lower is better) of the Apple iPhone 4,
iPhone 3GS
,
Motorola DROID
,
HTC EVO 4G
and
Droid Incredible
:

By the looks of it, out of the bunch the iPhones are easiest on the body, and only the HTC EVO 4G has a lower "Head" value. The Droid Incredible's ratings are a bit worse for your health, and finally the Motorola DROID earns our "Toaster of the Day" prize with its highest results.
FCC