FCC Chairman Wheeler to recommend that the agency votes no on T-Mobile's auction request
3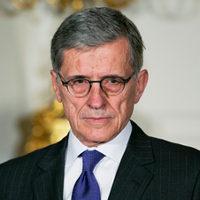 With the
FCC set to auction off low-frequency spectrum next year
, a report published on Wednesday says that FCC Chairman Tom Wheeler will
recommend that the commission vote against a request made by T-Mobile
. While
the FCC has earmarked some airwaves for small operators
, the nation's fourth largest carrier has asked the FCC to hold aside even more spectrum in reserve for smaller carriers to bid on.
The airwaves are being turned over to the FCC from television broadcasters who will be reimbursed with some of the proceeds from the auction. The low-frequency (600MHz) spectrum being auctioned travels farther and penetrates buildings better than higher frequency spectrum. This is why T-Mobile is so determined to prevent larger rivals like Verizon and AT&T from buying each chunk of spectrum that is up for bid. AT&T says that the request by T-Mobile to increase the reserve is all "
about protecting T-Mobile from competitive bidding
." Verizon says that T-Mobile is doing whatever it can to push the nation's largest carrier out of the auction.
While Wheeler says that not every participant will be satisfied with how the auction will be run, the FCC chairman says that the rules are as balanced as they can be. He adds that when it comes to winning spectrum, "
competitive wireless carriers and new entrants have a clear shot
." Last year T-Mobile got the FCC to hold aside up to 30MHz of spectrum in each market. This swatch of spectrum is being held for companies without low-frequency airwaves in their wireless portfolio, to bid on. And while this will allow T-Mobile to bid for additional spectrum that could bolster its signal, for the disruptive wireless operator it is not enough.
T-Mobile isn't giving up. Timothy O'Regan, a T-Mobile spokesman, says that the five FCC commissioners still have to reach their decision. The commissioners will vote on July 16th. Chairman Wheeler and two other commissioners ensure that the FCC has a majority of Democrats currently seated on the commission.
source:
Bloomberg