FCC Chairman Pai celebrates the agency's repeal of net neutrality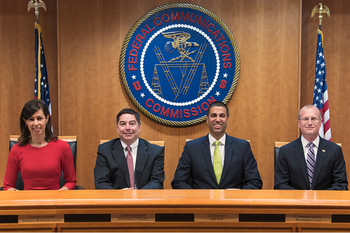 With 2018 going down as the year that the FCC repealed net neutrality,
the agency's chairman took a victory lap today
(via
Ars Technica
). Ajit Pai, who was inserted into the chairman's role by President Donald Trump in 2017, presided over the removal of the Obama-era rules last June. Net neutrality forces ISPs and wireless providers to treat all streaming content the same, and prevents the carriers from blocking content that they may not philosophically agree with.
The Congressional Review Act could have reversed the FCC's move, and while the bill passed the Senate, it fell 38 votes short in the House. Pai released a statement that started out praising the House for failing "to reinstate heavy-handed Internet regulation." While the FCC is fighting a lawsuit that seeks to overturn the repeal of net neutrality, something bigger is on the horizon and it starts tomorrow when the Democrats take control of the House. And that means that the FCC will now be under the control of Senate. Rep. Frank Pallone (D-N.J.), the new chairman of the House Energy & Commerce Committee. Pallone has already said that he and other Democrats will "protect net neutrality."
"I'm pleased that a strong bipartisan majority of the U.S. House of Representatives declined to reinstate heavy-handed Internet regulation. They did the right thing—especially considering the positive results for American consumers since the adoption of the Restoring Internet Freedom Order. Over the past year, the Internet has remained free and open. Broadband speeds are up, with download speeds in the United States increasing more than 35% in 2018, according to a recent report from Ookla. Internet access is also expanding, and the digital divide is closing. For example, a recent report by the Fiber Broadband Association found that fiber was made available to more new homes in 2018 than in any previous year. In short, the FCC's light-touch approach is working. In 2019, we'll continue to pursue our forward-looking agenda to bring digital opportunity to all Americans."-Ajit Pai, chairman, FCC
"I question whether or not Chairman Pai understands how Congress works. Republicans controlled the House last year and refused to even bring the CRA [Congressional Review Act resolution] up for a vote because they were concerned it would have passed. The net neutrality repeal has been a disaster for consumers. It ignored the will of the American people and gave ISPs an opening to control peoples' online activities at their discretion. The new Democratic majority will work to restore strong net neutrality rules in the House of Representatives this year."-Rep. Frank Pallone (D-N.J.), incoming chairman, House Energy & Commerce Committee
Whatever occurs, 2019 could be a very meaningful year for net neutrality.