Exynos-laden Galaxy Tab S 8.4 can't take the heat, owner complains
76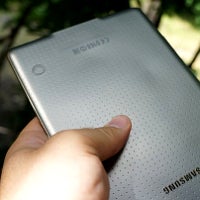 The new Samsung Galaxy Tab S series with Super AMOLED displays gave birth to some of
the thinnest tablets in the world
- the 0.26" (6.6mm)
Tab S 8.4
and
10.5
. All that catwalk modelling does come with a price, it seems (just ask Kate Moss), as a user out of Russia is reporting significant overheating of the superthin tablet under duress.
The pictures below are from the Exynos model, while the LTE-laden ones come with a Qualcomm Snapdragon chipset, so they might not be affected at all. The user claims that when they installed and updated software for the first time, they noticed the Exynos 5 Octa-equipped tablet to heat up noticeably, and when playing a 3D game, the tablet really seemed to go into overdrive. As a result, they say, the paper-thin back with the signature "perforated" look warped a tad, and showed some dimples deformation, which you can see in the pics.
We poked around the Tab S forums a bit, and nobody else seems to have complained about such an issue. Furthermore, unless the users register the rear temperature with a heat sensor, and it indeed shows unusual readings under stress, or more people confirm this, we'd have to chalk this off as an isolated incident for now, but will keep an eye on the developments.