Exynos chip out, Broadcom is in for the Samsung Galaxy S II Plus and Grand Duos
11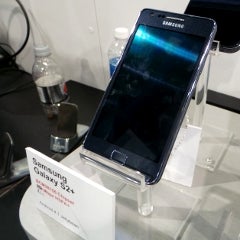 When Samsung revealed its rehashed
Galaxy S II Plus
last week, we thought it just swept the floors in warehouses and found a few crates of Exynos processors, S-AMOLED Plus screens and 8 MP camera modules left from the times the
S II
was being churned out like crazy two years ago, and decided to make a Jelly Bean device from the get-go with them as a stop-gap measure, but it ain't the case.
The S II Plus is actually utilizing
Broadcom processor
inside, not an Exynos chip, and Broadcom is even using it as a reference device for its mobile CPU. The BCM28155 SoC is a dual-core 1.2 GHz ARM Cortex-A9 fabrication with a homebrew VideoCore IV GPU, and the typical for A9s of yesteryear 40 or 45nm production method.
Broadcom's design is a true system-on-a-chip, too, as it has an integrated 21 Mbits HSPA + radio, which might be one of the reasons Samsung went with it for the Galaxy S II Plus. Judging from the picture below snapped at CES's Broadcom booth, the
Galaxy Grand and Grand Duos
also use Broadcom's solution, so it si not a one-time order by Samsung, but rather a stop-gap for some entry handsets until it integrates baseband radios in the Exynos line.