Exynos Octa-based Samsung Galaxy S4 smokes the competition in AnTuTu's bi-annual performance report
39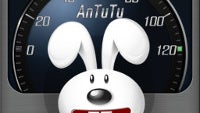 If you find yourself at all interested in the smartphone industry, chances are you've heard of the AnTuTu mobile benchmarking software. The company that goes by the same name has managed to etch itself a spot as an authority on performance, boasting downloads in the double digit millions. Of course, a diverse audience of this size allows for a pretty statistically-significant database to be analyzed, and the folks behind the app have done exactly that.
Examining the January 1 to June 30 period, AnTuTu has compiled a hall of fame of sorts, plotting the top 20 best performers globally. As you gleaned from the title, the gold goes to Samsung's Galaxy S4 running the Exynos 5410 SoC. Taking advantage of ARM's big.LITTLE platform, the custom silicon packs four lesser 1.2GHz Cortex A7 cores taking care of the more menial chores, whilst the other four 1.8GHz Cortex A15 cores handle the heavy work. While battery life is supposed to benefit from the aforementioned arrangement, a common critique of the Exynos 5410 has been the lack of 'true' octa-core capabilities, meaning having all eight cores pulling together, at once. Of course, such accusations would've been better received had the device not smashed the competition.
Speaking of competition, the runner-up certainly isn't one – the second spot is again occupied by the Galaxy S4, but this time it's the quad-core Snapdragon 600 version. Some of you may find themselves surprised, seeing as the third spot goes to the Xiaomi MI 2S, a new powerhouse out of China that is going places. And if this isn't indicative enough of the progress that Chinese manufacturers have made, 8 smartphones out of the 20 on the chart hail from the most populous nation.
Four other graphs have been compiled by AnTuTu Labs, showcasing the top 20 most popular devices in China, Hong Kong, Taiwan and Japan, respectively. For the full disclosure, head right for the gallery.
A disclaimer of sorts is probably well in order: keep in mind that these synthetic tests are not a hundred percent indicative of real world performance, which, in the end, is what truly matters.
source:
AnTuTu Labs