Extreme protection: best Galaxy S5 rugged and armor cases
7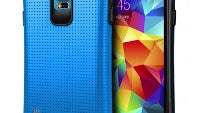 The Samsung Galaxy S5 is an extremely popular smartphone, and while Samsung added some very welcome rugged characteristics to its flagship, it's still far from indestructible. Sure, there's water and dust resistance that will protect you from accidental water spills, but what happens if you just happen to drop it onto the floor? We all know the "safety first" mantra very well, but unfortunately, that saying doesn't always translate into reality when it comes to the way we handle our mobile devices. Just a single moment of accidental carelessness, and your glamorous Galaxy S5 may find itself on a short trip to see the floor from up-close. And good luck if there isn't anything to soften the impact, like a carpet or something!
Many times, such unfortunate encounters end up with your smartphone having a cracked screen or, if you're lucky, a scratch here or a dent there, potentially damaging its pristine appearance. Simple IP 67 certification doesn't help in such situations, which is why we took on the quest to pick a few promising rugged and armor cases that can be used to augment the Galaxy S5's level of defense. Make no mistake, we aren't talking just a bunch of regular plastic cases here - the cases you'll find below are made to help your Galaxy S5 go through some rather extreme events, and live to tell the tale. Here's our fine selection of Galaxy S5 rugged and armor cases (in no particular order)!
#1 Element Case Recon Chroma
Element Case's Recon Chroma line stands out with the wide range of colorful choices that it offers. As you can see from the images, it really is one rather tough case, which is said to employ a kind of "dual density" rugged construction, featuring TPU and polycarbonate. Not only that, but it also comes with a lanyard and a belt clip that doubles as a viewing stand.
#2 Spigen Tough Armor
Being among the better looking armor cases out there, the Spigen Tough Armor tries to provide total protection to your Galaxy S5, while avoiding looking like an ugly brick. The popular manufacturer argues that the Air Cushion technology implemented in the case is what has allowed the thickness to stay in check.
#3 Trident Aegis
This MIL-STD-810F compliant case may not look like much, but it does seem like it can go through a lot of beating without a hitch. A dual protection construction of soft, shock absorbent inner silicone and hard outer layer of polycarbonate is will try to negate the harmful effects of random drops or bumps.
#4 Griffin Survivor Core
Another extra-rugged case for the Samsung Galaxy S5, the Griffin Survivor Core has increased TPU (Thermoplastic polyurethane) protection around the sides, while its polycarbonate back allows you to see the actual GS5 back cover through it.
#5 Urban Armor
The Urban Armor line for the Galaxy S5 is decidedly rugged and enduring, but it also pays attention to style, be it a rather brawny one. Some of the cases key features include a lightweight design, an impact resistant soft core, and a bundled high-quality screen protector.
#6 Speck CandyShell Grip
The Speck CandyShell Grip is slightly lighter compared to most of the other options we've lined up here, but it still qualifies as above-average in the protection department, mostly due to the added rubber lines across the case. It also boasts reinforced corners and raised frontal edges that can save your screen from a few scratches.
#7 Obliq Heavy Duty
If you'd like to run away from the norm, the Obliq Heavy Duty case seems like an appropriate option. This low-cost product is will not only attract users with its affordable price tag, but also a splash of color on the back panel that really shakes things up. Best of all, it's available in a wide variety of colors, including white, black, blue, red, orange, champagne, and so on.
#8 Otterbox Defender
Otterbox has made quite the name for itself with its ultra-durable cases for smartphones, and of course, there's one for the Samsung Galaxy S5 as well. Taking pride in exhibiting exceptional quality of materials and construction, the Defender will provide superior protection for your smart device.
#9 Verus Thor Dot Series

Now here another attractive option for those of you looking for a rugged Galaxy S5 case. The Verus Thor Dot Series features a stylish and colorful exterior that translates the Galaxy S5's dotted pattern to the design of the case. And, with reinforced corners, the phone inside it is just bound to stand the test of time!
Recommended Stories