Exclusive: the LG G3 will feature a 5.5-inch Quad HD display and advanced personalization
88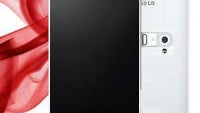 The title image here is just a concept render, but we do finally have some legitimate information about the
LG G3
to pass along. There have been rumors here and there that the G3 will have an incredibly high-resolution display, and we now have confirmation from a source at LG that the next LG flagship will indeed feature a 5.5-inch Quad HD display.
This means the display will have a resolution of 2,560x1,440 pixels, and a pixels per inch (PPI) measurement of an insane 534 PPI. This is most likely the same display that LG showed off back in
August
of last year, which LG rated at 538 PPI. Either way, the display will easily have the highest PPI of any smartphone currently on the market, at least that's assuming the G3 is released before the upcoming
Oppo Find 7
, which has been rumored to use a display with the same specs.
But, that's not all. Our source also has some info on what to expect from the software on the G3, which is said to have "advanced personalization" features. Although, from the information that we got, it is unclear how much of those features are Google Now and how much are custom LG software. There are a number of options that sound like Google Now's personal assistant options, like location-based reminders, calendar organization, traffic alerts, and intelligent push of news and location-based recommendations. However, LG wants to go beyond that.
Supposedly, the G3 software will continuously adapt and learn your usage patterns and habits in order to offer you more personalized information. This is where the info we got becomes somewhat hazy. We were told that the user interface would adapt and change based on your usage and needs, which sounds a bit like Aviate; and, we were told that the G3 would give you "helpful ideas" in order to be more productive. Unfortunately, we have no good idea as to what that might mean.
We couldn't get any info on a release window, but it has been rumored that the G3 would be released sometime in mid-May.
Recommended Stories