Ex-Apple engineer says that the iPhone developed from improvements made to the iPod
12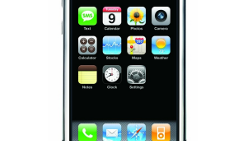 Tony Fadell was panicking. Well before the
Apple iPhone
was ready to be introduced, the man in charge of engineering for the iPod was carrying a prototype of the device on an airplane. Fadell exited the plane thinking that the phone was in one of his pockets. But when he patted his pockets after getting off the plane and they went flat, he knew he had a problem.
The iPhone was top secret when this occurred, and Fadell knew first hand that Apple CEO Steve Jobs had threatened to fire anyone who leaked the product. Helped by a group of volunteers who had no idea what they were looking for, Fadell finally found the prototype stuck in between two seats on the plane. Apparently, it had fallen out of his pocket.
In an interview with the BBC, the former Apple employee (who left the company in 2010) said that developing Apple's iconic smartphone started out as a way to build on the iPod's platform. Last week,
a video surfaced of an early iPhone prototype that used a clickwheel
to navigate the UI. But the engineers decided that the clickwheel was turning the iPhone into a 1960's rotary phone. So those working on the project decided to scrap the tool.
Fadell also discussed a behind-the-scenes dispute over whether the new iPhone should have a physical QWERTY keyboard. After all, at the time the device was being developed, BlackBerry was the top-selling smartphone manufacturer. But Jobs was adamant that there was not to be a physical keyboard on the phone. Anyone who disagreed with him was invited to leave the project.
One place where Fadell disobeyed his boss was with the iPhone's support for a stylus. While we all have seen Jobs' dismissal of the input tool at the iPhone's introduction ("Who wants a stylus? You have to get them and put them away and you lose them. Yuck! Nobody wants a stylus."), Fadell felt differently. He believed that there would be a day when a stylus would be wanted. So behind Jobs' back, the engineer told the team working on the display to allow it to support a stylus.
"Because we knew it was right, even though Steve was making a philosophical point initially saying you can just use your finger. We knew there will come a day when you're going to need a stylus. We did it without his knowledge, it was behind the scenes. He would've ripped my head off."-Tony Fadell, former Apple employee
One thing that the former Apple engineer did confirm, is that the iPhone prototype used by Jobs' at the Macworld unveiling was, in his words, half-baked. Previous stories from those in the know have said that there were two iPhone units at Jobs' disposal on January 9th, 2007. One was a back up in case the first one failed. Luckily, everything appeared to work perfectly.
The rest, as they say, is history.
source:
BBC
via
BGR