A prototype of Apple's click wheel iPhone: video shows us how clunky it would've been
8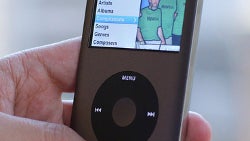 We've heard tons of stories and legends about the designing of the original iPhone — Steve Jobs and the boys at Apple had to go through numerous concepts and juggle a lot of ideas before finally settling on the iconic design. It has been said that Jobs planned iOS out to be either an advanced version of the operating system that the good old iPods have, or a slimmed down version of Mac OS X. Nowadays, it's obvious which idea the team went ahead with, but what if things were different — what if the OG iPhone was actually based on the iPod and its signature clicker wheel?
A video of an alleged iPhone prototype from that era has been leaked and shows us the type of otherworldly handset that the iPod-based iPhone would've been. The device shown has its display split in two parts — a bottom half, which houses a virtual representation of the clicker wheel, and a top half, which displays the good old iPod UI, enhanced with a few phone features. The name of the operating system is Acorn OS, but that was just a project title at the time.
When we've heard stories about the clicker wheel iPhone before, we always imagined that it would be a hardware controller — like the one on the iPod before it. So, either what we see in this video (assuming that it's legit) is just a software representation of the hardware; or the design team was juggling with the idea to have the bottom portion of the screen to be dedicated to controls at all times. We can easily imagine how that clicker wheel can change into a keyboard when texting or a numpad when dialing. Still, it does look rather clunky and it limits the main screen area quite a lot, so we can see why this project was scrapped.
Now, is this the real thing? Who knows... Apple is quite adamant in keeping its secret projects secret and its prototypes destroyed. Maybe, just maybe, a few of these prototypes are out there in some special people's hands, but it's obvious why no one would leak footage of them — it'd be easy to figure out who did it. But hey, even if it's fake, we'd say it's a pretty good representation of how the clicker wheel iPhone would've looked and worked, and that's cool!