Evernote hacked, users will be required to reset passwords
5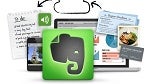 Fortunately, no user-stored data or payment information appears to have been compromised, but it looks like some user account information may have been accessed. User passwords are protected by one-way encryption (called "salt" in cryptographic terms), but user names and email addresses may have been accessed.
The first of several things that Evernote is doing is requiring all users to reset their account passwords. In addition to that, Evernote is going to revamp some things to better protect basic account information. The security notice does not state if this breach falls across all the company's services or not, but you will find out if you are prompted to reset your password.
The popular, cross-platform "remember everything" note-taking program has a lot of neat features. One of the things we like about it is that there is a mobile app for just about every platform in use, iOS, Android, Windows Phone, BlackBerry, even webOS (sadly, no Symbian app). Evernote also has companion applications for Mac, Windows, Safari, Chrome and Firefox. If you use Evernote across multiple devices, expect to reset or reenter your password on each one.
Evernote is the latest to be targeted by hackers, and the efforts appear to be highly coordinated. Recently we told you
about Twitter's ordeal
, and those two companies are not alone. All the major players have been kicking back hacking attempts over the past few months.
Remember, when you reset your password,
do not use any of these
.
source:
Evernote