Essential Phone limited edition colors hands-on: just more to love
13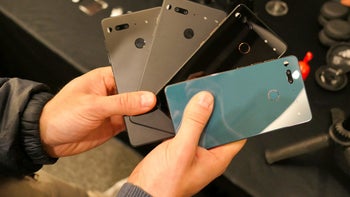 Mobile World Congress is the platform for most companies to announce their newest, most exciting devices. Not everyone has something really new to offer, so they simply do the next best thing – show off a slight variant of an existing device. For the Essential Phone, that's exactly what happened as we got the chance to check out the exciting new limited edition colors of the phone.
To be a bit more exact, there are a total of three limited edition colors of the Essential Phone; Stellar Gray, Ocean Depths, and Copper Black. Out of the bunch, Ocean Depths manages to raise the most eyebrows because of its punchy looking color. Unlike the other options, which employ shades of black or white mostly, there's actually color in Ocean Depths. Its turquoise color is striking, especially with its reflective coating.
Speaking of that reflective coating, it's also something we see in the Copper Black option. On one hand, the reflective surface does nicely to evoke something premium and stylish looking, but on the downside, it's a magnet for fingerprints and smudges – so keeping it fresh is going to be a chore. However, that's not a problem for Stellar Gray, mainly because of its matte black surface. This, too, helps to provide some adequate grip when holding the phone, which can be a problem with the glossy and slick finishes of the other color options.
Beyond the limited edition colors, the specs of the Essential Phone remain the same, but they will be sporting prices of $599, which is $100 more than the standard launch colors of the phone. It seems as though Ocean Depths is the most popular out of the bunch, seeing that it's already sold out. Therefore, if you're interested in these new colors, your options are now limited to choosing between Copper Black and Stellar Gray.