Elpida starts sampling next-gen RAM for smartphones and tablets
1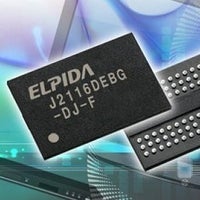 When it comes to RAM chips for mobile devices,
Elpida
is among the names that you are likely to hear the most. The company's memory modules are being used in devices made by a number of manufacturers, including Apple and Motorola.
Just recently, the mobile RAM maker announced that it has started sending sample shipments of its next-gen chips tailored specifically for smartphones and tablets. The LPDDR3 modules have a capacity of 512MB and can be stacked in packages of up to 2GB.
But the increase in RAM capacity is not the only benefit that the new memory chips deliver. When configured for use in high-end devices, the silicon can provide transfer speeds of up to 12.8 gigabytes per second, which is several time faster than what the now popular mobile DDR2 chips are capable of achieving. At the same time, when working at rates comparable to those of today's mobile DDR2 modules, the new RAM chips consume only half as much power, thus improving battery life.
Elpida plans to begin volume production of its new LPDDR3 memory next year, so it wouldn't be surprising if we see them being used in smartphones or tablets before 2012 is out.