Elephone prepping a 2K display, 4GB RAM, Intel-powered flagship against Meizu and Xiaomi
17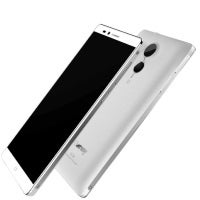 Chinese smartphone maker Elephone's output has been rather interesting lately, as the company is aiming increasingly higher. Last time we spoke of these guys, it was about
a $200 flagship by the name of Elephone P7000
that flaunts brag-worthy specs - an octa-core chipset, 3GB of RAM, a 5.5-inch 1080p display, a 16MP main cam, and a 3200mAh battery. Way to get the tech crowd's attention!
Anyway, the company has come up with something even more impressive this time! At the annual Hong Kong trade fair, Elephone demonstrated a secret-y new flagship smartphone with dreamy specs - a 2K (1440x2560 resolution) screen, 4GB of RAM, fingerprint scanner, 20.7MP Sony camera, and an Intel processor that makes for a surprising departure from MediaTek chipsets. The unnamed device will be able to run Android 5.0 and Windows 10 as its daily driver, although it hasn't been set in stone whether Elephone plans a dual-boot setup, or two separate editions of the device with the different operating systems. We're going with the latter, as
Google and Microsoft dislike the notion
of users dual-booting their competing operating systems.
In addition to the purported specs, a render leaked as well, showing a slim phone with metal frame and - in 2015 Chinese fashion - thinned-out side screen bezels. Reportedly, Elephone is going after the likes of Meizu and Xiaomi, whose affordably-priced high-end handsets have made significant impact on the Chinese market.
Still, this won't be the first flagship device to appear from Elephone, as the vendor introduced the P1000 - a Snapdragon 801, 3GB RAM, CyanogenMod-based model with a large 5.9-inch 2K display. Priced at $400, it's one of the fiercest OnePlus One competitors around, but it doesn't seem to be on regular sale - it's either out of stock, or on pre-order, which isn't very reassuring for a smartphone that showed up as far back as August last year. Hopefully, the upcoming device will be better exposed to the market.