Microsoft doesn't want Android and Windows dual-OS devices to happen either
30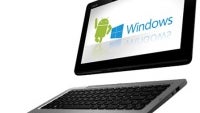 Since the beginning of the year,various manufacturers have been pitching dual-OS devices that bootAndroid and Windows 8 (desktop and Windows Phone). Yesterday, Huaweiannounced that it will introduce a dual-OS handset soon. Beforethat, ASUS was to ship its Transformer Duet TD300 dual-bootingtablet, but it was stalled in its tracks by Google. This revealed a serious obstacle for the dual-OS concept - industry pressure.
So far, our assessment of the situationwas that dual-OS devices represent a chance for Microsoft topiggyback on Android's popularity to increase Windows' market share,which is something Google would understandably object to. But thereality might be different. According to analyst Patrick Moore, whileGoogle "wants all-Android devices", Microsoft too wouldrather have all-Windows devices, because dual-OS will let Androidenter the Windows-dominated PC market. Google is already trying tocompete in this space with its Chromebook laptops, and dual-bootingdevices could give them another, even more comfortable entry pointinto a territory that Microsoft wants for itself.
Allegedly, an internal ASUS memo aboutits 2013 AIO PC dual-OS desktop computers revealed that Microsoft has anew policy of not supporting dual-booting products, which is why theTaiwanese company will stop selling them. As a whole, the fate of future dual-booting devicesis unclear at this point. Although Chinese and Taiwanese vendors arequite interested in the concept, and Intel has done a lot of technological work tobring it to fruition, it seems that Google and Microsoft have thelast word on it, for now.
source: WSJ