Educated forecast points to 750x1334 pixels panel for the 4.7" iPhone 6, 1242x2208 resolution for the 5.5-incher
41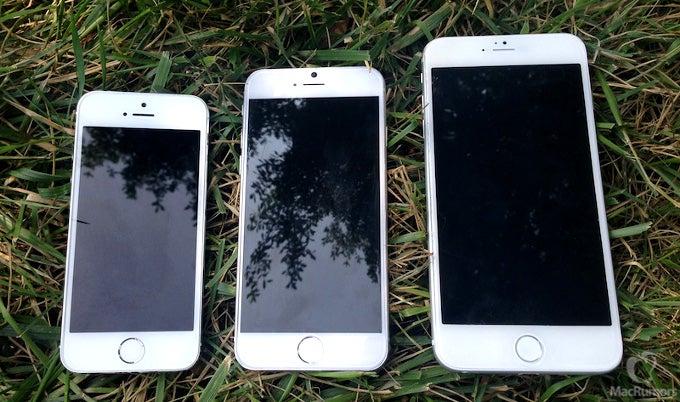 When Apple changed the iPhone's screen resolution for the first time with the
iPhone 4
, it went for exactly double the horizontal and vertical pixel count of the predecessor, without causing much trouble for developers. Later on, when the inevitable happened, and the
iPhone 5'
s screen diagonal grew to 4 inches, Apple just increased the vertical resolution count, leaving the 640 horizontal pixels intact, which led to banding effects in some apps, but most were quickly rewritten for the new resolution anyway.
Now, with the rumored upcoming 4.7" and 5.5" iPhones, the resolution count projections get trickier, as this is the most significant jump in scree diagonal Apple has ever made with the iPhone line. Assuming that the aspect ratio stays the same, Daring Fireball's John Gruber has made some napkin calculations, forecasting that the mainstream 4.7"
iPhone 6
would come close to 750 x 1334 pixels, returning 326ppi pixel density, while the huge 5.5-incher would make do with 1242 x 2208 pixels panel, and 461ppi count.
The reasoning behind these exact resolutions, is that they represent exactly 2x and 3x the current Retina Display virtual "points" that Apple now builds its iOS interface around: "
make it easy for people to interact with content and controls by giving each interactive element ample spacing. Give tappable controls a hit target of about 44 × 44 point
s," says the company. Apple, argues Gruber, is no longer talking about interface elements in terms of pixel numbers per side, but rather "points," indicating that as long as the pixels per inch count is kept, it will be easy for developers to fit icons and other interface elements of the recommended for ergonomics' sake "tappable" size in the new resolution. Not much left until the grand unveiling, so we'll see if this logic holds water pretty soon.