Ebola-proof tablet devised by Google
15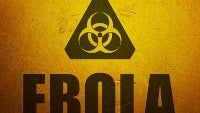 Collecting data in areas hit hard by the Ebola virus requires a tablet that is protected against contamination. So Doctors Without Borders requested that Google build them a tablet that would be Ebola-proof. Based on a Sony Xperia tablet, Google housed the device in a special casing to make sure that the slate could withstand the high humidity and storms that occur in West Africa.
Additionally, an extra level of protection around the tablet allows it to be dipped in chlorine to kill off any remnants of the Ebola virus. Sharp edges have been rounded off to make sure that the slate doesn't piece Doctors' protective clothing. And to keep openings on the tablet to a minimum, the device recharges wirelessly.
Since passing pen and paper back and forth in the region could be considered very dangerous, there is no question that this tablet will come in handy, especially when it comes to crunching numbers. Previously, some Doctors had to shout out patient information from inside the protective zone to a person taking notes on the outside. Note only did this lead to errors, it also wasted Doctors' time as they stood heavily dressed in protective garb with the hot African sun beating down upon them.
The tablet could also lead to some breakthroughs. Collecting more data will help those in the medical profession better understand how to beat the virus.
source:
TheTelegraph
via
BusinessInsider