Early version of Motorola DROID Bionic's "Droid Does" page shows $299.99 contract price
77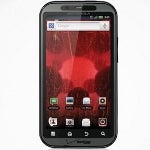 How eager is everyone to hear news about the
Motorola DROID Bionic
? Eager enough to make a big deal when it showed up this morning on the list of Android devices that support the Netflix app, as we
reported
. Even better, a tipster for Android Central presented what he calls an early version of the "Droid Does" screen for the Motorola DROID Bionic.
Most of the specs are what you might think they will be. A 4.3 inch pentile display with qHD resolution is onboard while a TI OMAP 4430 1GHz dual-core chip is under the hood,
making the phone eligible for Netflix HD
. There is 1GHz of DDR2 RAM with a rear 8MP camera and a front facing 2MP shooter. The page also shows the Webtop dock that turns the handset into a laptop computer, similar to the accessory available for the Motorola ATRIX 4G
Based on the site, and folks, you might need to sit down here, the Motorola DROID Bionic will be
priced at $299.99
and that is with a 2 year contract. While no launch date was spotted, we recently
told you
about an August 4th date, which fits in perfectly with the tipster's remark that this site will go live the first week of August.
source:
AndroidCentral
UPDATE:
We really hate to spoil the fun, but it seems like the leaked image of the Motorola DROID Bionic as it would appear on the Droid Does web page
is a forgery
. We know that it may not be that obvious at a glance, but a closer look reveals more than a few clues leading to that conclusion. The Droid BIONIC logo on the bottom right corner of the image, for example, looks misaligned and plain blurry, while the logos of the rest of the DROID family in the top left corner appear in a different order when compared to the ones on the web page as it looks currently. Even the image of the DROID Bionic looks as if its wallpaper has been altered by using a clone brush. Those of you who would like to exercise their forensic skills may try to point out the rest of the imperfections as there are a few more of them in there.
source:
Android Community