EXCLUSIVE: The day after Christmas dishes up a tasty Froyo treat for the Samsung Epic 4G
10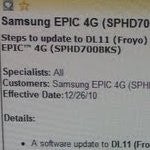 Still greatly considered to be one of the titans in the Android landscape, the Samsung Epic 4G has been waiting patiently as numerous devices have been graced with the Android 2.2 Froyo treatment.
Recently, the
DK28 build of Froyo for the handset managed to leak
and brought hope that an official update was soon coming. However, an anonymous tipster of ours was able to shed some light on the highly anticipated update that's sure to get Samsung Epic 4G owners excited after Christmas.
Based on the screen shot of an internal memo, it appears that the DL11 build of Froyo will slowly begin to roll out as an over-the-air process starting on December 26th – with the hopes of it hitting all handsets within 4 days of its initial launch. Naturally, your best bet is to simply wait for that notification to finally hit your handset.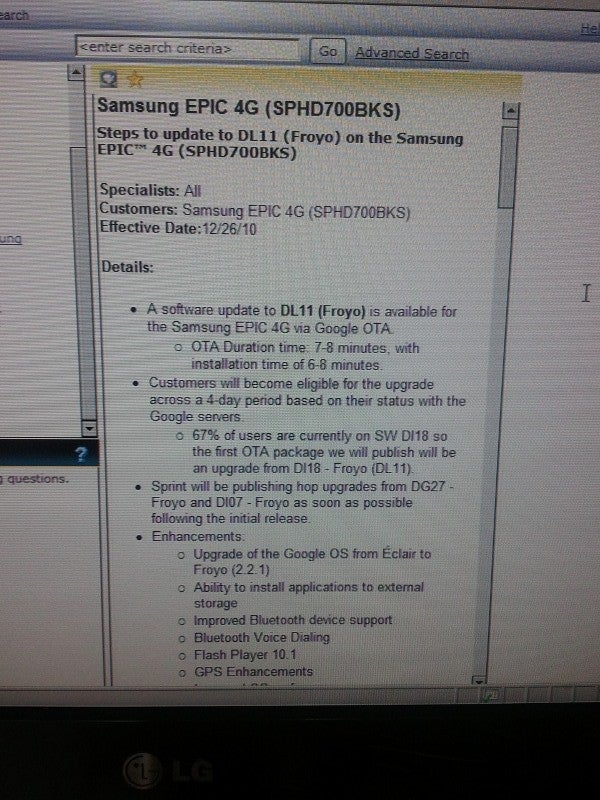 Once it does, you can expect the following new enhancements:
Upgrade of the OS from Eclair to Froyo (2.2.1)
Ability to install applications to the external memory
Improved Bluetooth device support
Bluetooth Voice Dialing
Flash Player 10.1
GPS Enhancements
Thanks to our anonymous tipster! If you have an interesting tip, send it to tips at phonearena.com!