Official Froyo test upgrade for Sprint's Samsung Epic 4G leaks
7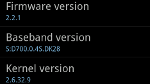 If you own the Samsung Epic 4G and are a little jealous over those Android owners rocking Flash on their web browser, you will be happy to know that the gang at Xda-developers made an important discovery. Earlier Saturday, build DK28 was leaked out and installing it on a Samsung Epic 4G led to the handset receiving Android 2.2.1. While it is an official release, it has not been officially released (how's that for a play on words) which means no OTA upgrades at this point for this test build.
Now, you could sit around and wait for Sprint to roll out the Froyo upgrade some time in the near future, most likely on a staggered basis. Or, you can grab it yourself by heading over to the source links. Hey, no thanks required! All we ask is that you express your feelings about your newly 'Froyotized' Samsung Epic 4G in the comments box below.
source: Xda-developers
(1)
,
(2)
**Update**
Apparently, Samsung Epic 4G owners are beginning to receive the Android 2.2 upgrade directly from Sprint. Obviously, with the OTA upgrade, you simply need to click a button to get the whole process rolling. If you received the OTA prompt and have upgraded your Samsung Epic 4G, let us know. Those comment boxes below are waiting for your observations.
source:
AndroidGuys