Dude, that's rude! Samsung puts up live installations to belittle Apple Maps in Australia
46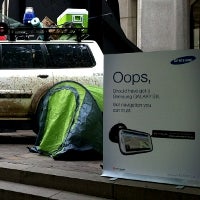 Samsung would never miss a chance to take advantage of an Apple slip, and two beat up vehicles in Australian cities it made an exhibition of prove it. Remember the
Australian police warning not to use Apple Maps
to get around arid national park territories in the middle of nowhere, as you might end up, well, in the middle of nowhere?
Not that anyone should rely on anything but a pro GPS unit if they intend to get near the Australian Outback, but the news that local police called Apple's (mis)directions "potentially life-threatening" circled the globe, and Cupertino issued a quick patch for the road that actually leads to the dusty city of Mildura.
Samsung's Aussie PR unit immediately caught on to the slip, and set up two city installations to take advantage. The Southern Cross Station in Melbourne saw a loaded VW hippy van, and the Australia Square in Sydney hosted one dirty Nissan Patrol 4WD.
The sign next to them? "
Oops, should have got a Samsung Galaxy S III. Get Navigation you can trust,
" alluding to the Navigon GPS app that comes preinstalled on
Galaxy S III
units sold Down Under. The cars will stay up until Friday, so for anyone in Melbourne or Sydney, you can take a trip down to check them out and chat with the pretty Samsung reps in the picture.
Samsung's no stranger to high school provocation when it comes to its archcompetitor Apple, as many an
iSheep
or
Super Bowl
stunts could affirm, yet the mobile phone industry would be much more boring without the Apple-Samsung kerfuffle, that's for sure.