Dual-boot HTC Babel tablet concept brings Android and Windows together
27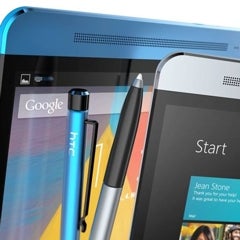 Even though they may never become real, smartphone and tablet concepts are nice to look at. And that's why we're presenting you the HTC Babel, a tablet concept made by @PhoneDesigner.
The HTC Babel is supposed to be a dual-boot tablet, letting you choose between Windows 8 64-bit and Android. Its design has an unmistakable HTC feel, with large speakers on the front, and an aluminum-made case.
The tablet's display should be a 10-inch one with a 3:2 aspect ratio and 1920 x 1440, or 2560 x 1920 pixels. A "native digitizer", a rear camera and a front-facing camera are completing the picture.
Of course, we all know that HTC hasn't been successful at selling tablets in the past. But rumors have it that the company
may manufacture a high-end Nexus tablet for Google
, which could be released in the second half of the year. Take a look at the Babel concept below, and let us know if you'd want the new, rumored Nexus 10 to resemble it.
source:
@PhoneDesigner