Drupe binds together all your contacts and messenger apps in one place so you don't have to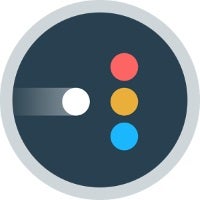 Drup is a refreshing app - it's made to bring all your contacts and communication apps together in one place, but more importantly, you can get to it from all your screens. It's pretty basic, and delightfully so - for example, do you want to contact someone? Just swipe the contact to the right app (Skype, Dialer, WhatsApp, whatever), and you'll get in touch!
Drupe is activated with a tiny trigger icon - four dots that blend with the Android interface and follow you across all apps and screens. Whenever you have to, just swipe the dots and you're rolling! Drupe also supports groups across apps - meaning you can create a new group and duplicate it onto different communications apps. Throw in the ability to track your recent communications log in one place while you're at it - that is, call logs, SMS, WhatsApp, Facebook Messenger, and more.
Other notable features in Drupe include an automatically generated customizable favorites list, complete with pinning specific contacts to respective apps; a lockscreen widget; smart search for friends and contact names in Skype & Facebook; and good optimization so drupe's constant activity doesn't drain your battery cells. Drupe is also flexible, letting you show and hide apps, choose among customizable themes, and adjust the swipe gestures to your liking.
As a whole, Drupe presents a useful concept and pulls it off quite well for the most part. Although swiping the dots might take a bit of getting used to, the app makes an example of functionality Android UX designers should include by default.
Drupe is free to download and has no ads.
Drupe for Android images