Droid Eris getting replaced by HTC Incredible?
This article contains unofficial information.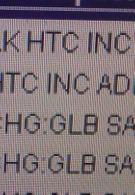 BerryScoop says that a trusted tipster (say that 10 times fast) has told them that Verizon plans on replacing the HTC Droid Eris with the HTC Incredible when the latter launches on April 1st. Even more, ahem, incredible is that the tipster revealed that Verizon is considering the Incredible to be its version of the Nexus One. Now, we know that the Android OS is fragmented, but this is really out there. The source told BerryScoop that the Droid Eris, which was launched together with the Motorola DROID back in November, is going "End of Life" on April 1st. Oh, and considering that Big Red will have the Incredible in the store, those earlier reports that Verizon would be selling the N-One at the retail stores seems to be incorrect and that the reps will be pushing the HTC Incredible instead.
HTC Incredible Preliminary Specifications
HTC DROID ERIS Specifications
|
Review
source:
BerryScoop