Droid Does again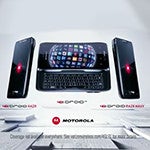 Verizon's Droid Does campaign is back. The most recent incarnation loses the sharper edges of the original – digital voices and CG robotic arms are out in favor of a kinder, more friendly voiceover that targets families and "average" users over the techie, cutting
edge
users that the original series aimed for.
The changes reflect the maturity of the smartphone market today – when Verizon launched the
original ad series
in 2009 Verizon was struggling to create a marketable brand around an operating system (Android) that did not have the same name recognition of the Apples and RIM's of the world. They were also aiming at the early adopter market, since in 2009 smartphones were more of a niche product aimed at those who needed (or wanted) to be always connected to the web, email, and social media.
Now more than half of the phones Verizon sells are smartphones, and they want to make them more approachable to the market segment that has been slower to adopt them. Did they do a good job? Watch the clip below and share your take in the comments section.
source:
9to5Google