Driving while using your cell phone increases risk of crashing
22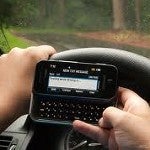 Sure, it is obvious, but money needs to spent on these tests anyway. According to the Governor's Highway Safety Association, cell phone use while driving is part of a group of distractions that
raises the odds
of a vehicle accident. These distractions are the cause of 15%-25% of accidents ranging from your minor every day fender bender to a fatal crash.
Most interesting is the finding that
hands-free accessories do not reduce the risk
of having an accident while using your handset. At the same time, there is no definitive evidence that banning cell phone use or texting while driving has reduced the number of crashes. The Governor's group suggests a ban on cell phone use regardless of whether or not hands-free technology is used, for all novice drivers. It also recommends a texting ban for all drivers. Thus far, 30 states and Washington D.C. have banned cell phone use by novice drivers while 41 states and the nation's capital have banned texting by novice drivers. 34 states and D.C. have a texting ban for all drivers.
The GHSA says that while cell phone use raises the risk of an automobile driver getting into an accident,
texting raises these risks
even more. The problem is that texting bans are hard to enforce.
GHSA executive director Barbara Harsha said that more studies need to be done as there is still a lot about this subject that is unknown. In the meantime, the best way to avoid a crash would seem to be to not use your cell phone at all while operating a vehicle.

source: Reuters via BGR